A New Education Policy (NEP) for India was approved by the Union Cabinet on 29 July 2020. The policy is forward-looking, inclusive, the right amount of idealistic, and very much doable. There are big changes to the current system in this policy and these are being received very positively by most people, including the opposition political parties. The previous education policy was adopted in 1986 i.e. 34 years ago and this update was long overdue. Here are the key highlights:
For Schools
Curriculum
10+2 has been split into 5+3+3+4, covering ages 3 to 18 (instead of ages 6 to 18 previously). Thus, including the Early Childhood Care and Education (ECCE) between ages 3-6. These changes are to be adopted by 2025.

5 years of Foundational Education (Preparatory Classes and Classes 1, 2) +
3 years of Preparatory Pre-School (Classes 3, 4, 5) +
3 years of Middle School (Classes 6, 7, 8) +
4 years of Secondary Education (Classes 9, 10, 11, and 12)

There will be pre-school (ages 3-6) in Kendriya Vidyalayas and other government schools too.
Exams in Classes 3, 5 and 8 to be administered by an appropriate authority.
Emphasis on learning in regional language and multilingualism till Class 8: States & Institutions will choose the languages.
Focus on Vocational Education that starts from Class 6. Computer Programming classes start from Class 6. Classroom teachings will shift towards competency-based learning.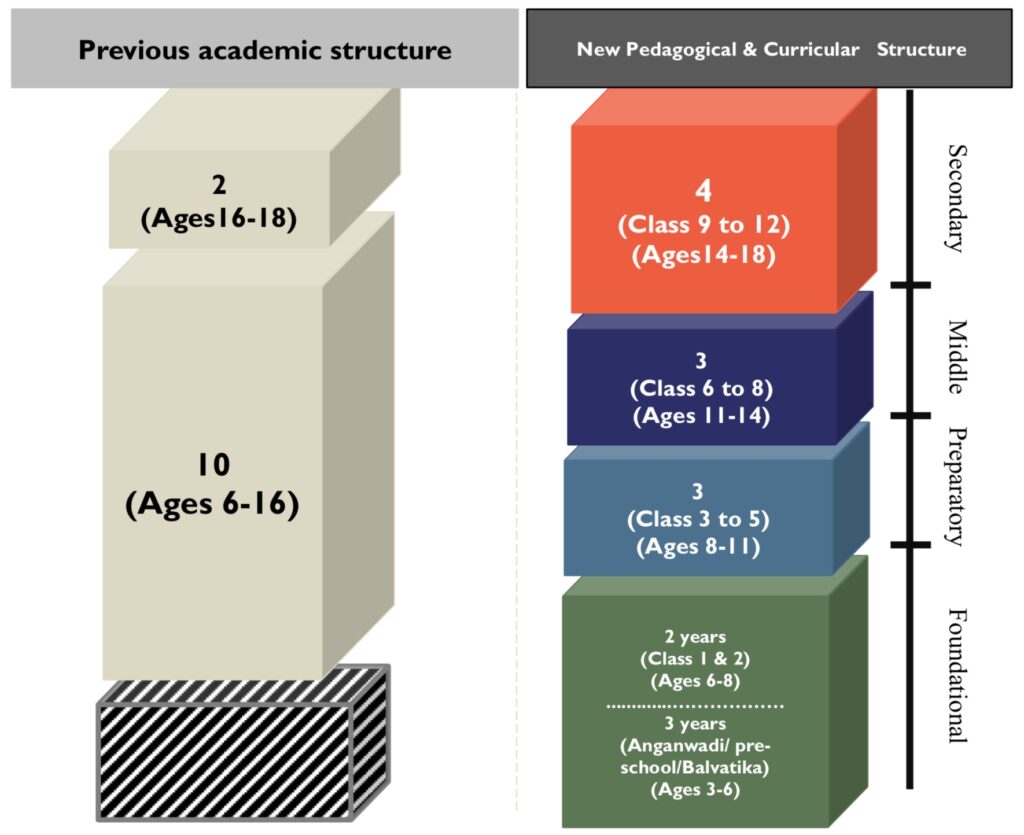 Flexible Syllabus (Electives)
There will be no rigid separation between arts, commerce, and sciences, between curricular and extracurricular activities, between vocational and academic streams. Students can select subjects of their liking across streams, particularly in Secondary School. All subjects to be offered at 2 levels of proficiency.
Curriculum content will be reduced in each subject to its core essentials. This has been done to make space for critical thinking and more holistic, inquiry-based, discovery-based, discussion-based, and analysis-based learning.
Boards and Exams
Boards like CBSE, ICSE and the state boards will continue to exist, but they will change to accommodate for the new policy. Boards may, over time, also develop viable models of Board Exams, such as annual, semester, or modular exams.
De-emphasize "high stakes" Board Exams: Students can take Board Exams on two occasions in one academic year — one main exam, and second for improvement, if desired. Instead of just two very important Board Exams at Class 10 and 12, exams will be spread over classes 9, 10, 11, and 12. And there will be a lot of importance given to internal assessment.
There's a new National Assessment Centre, PARAKH. This body will be responsible for setting assessment standards for students across India.
SAT-like University Entrance Tests (from 2022): Students can appear for entrance exams twice in a year. (The SAT is a standardized test widely used for college admissions in the United States.)
Assessment and Report Cards
Report Cards will show credits for vocational studies along with marks for regular subjects.
The nutrition and health (including mental health) of children will be addressed. This will be done through healthy meals and regular health check-ups. Health cards will be issued to monitor the same.
Equitable and Inclusive Education
Gender-Inclusion Fund will be set up by Government of India. The fund will be available to States to support and scale effective community-based interventions. Which will address barriers to female and transgender children's access to education.
National Scholarship Portal for SC, ST, OBC, Socio-Economically Disadvantaged Group (SEDG) students to be expanded.
The policy aims for 100% enrolment till Class 9 by 2030 and 50% Gross Enrolment Ratio (GER) in Higher Education (Universities) by 2035.
For Higher Education
University Grants Commission (UGC) will be replaced by a new regulator called the Higher Education Commission of India (HECI), which will govern the entire Higher Education except for Medicine and Law.
3 or 4 years multi-disciplinary Bachelor's program.
Mid-term dropouts to be given credits with the option to complete their degree after a break. There will be multiple entry and exit options for those who wish to leave the course before completion.
National Research Foundation (NRF): The overarching goal of the NRF will be to enable a culture of research to permeate through universities. The NRF will be governed independently of the government.
Open and distance learning to be expanded.
National Education Technology Forum (NETF) to be formed that will promote the use of technology in Education.
50% Gross Enrolment Ratio (GER) in Higher Education by 2035.
Our Analysis
This is a good, forward-looking, and inclusive education policy. With the right amount of idealism that is very achievable. This new format is seemingly closer to the American, British, Australian and other western education systems. Which could be a great thing for us in order to go further in a global world. For one, a lot of research has gone into building this flavour of education over the years, in several parts of the world. And Indian governments have been making micro-changes for several years as well. Two, it gives Indian students an intuitive understanding of the way western education systems work, thus making it easier for them to work with other countries. And three, it makes moving across universities at a national or international level easier.
The government will need to come up with a solid plan on how some of the enrolment and quality goals would be achieved. The goal to spend 6% of GDP on the Education sector is an old one; formulated in 1948 right after independence. However, the Education sector currently gets 1.7% of GDP. The policy aims for 100% enrolment till Class 9 (Secondary School) by 2030 and 50% Gross Enrolment Ratio (GER) in Higher Education (Universities) by 2035. The current figures are 68% and 26%. These are structural issues that would need more dedicated effort and resources. It's to be seen how the govt will go about in order to achieve these figures.
The other points about restructuring of boards, regulators, and especially about giving choices of what subjects students wish to study, are quite a welcome change.
How SchoolDesk can help your institution with NEP guidelines
We are excited about integrating the new curriculum and evaluation methods into SchoolDesk. The grade-books and Report Cards in SchoolDesk are designed to accommodate any changes that may be needed and are great to work with already. We also already work with vocational subjects and health related grades We'll be implementing parts of the new structure laid out by NEP by end of 2020, even before the format is made compulsory. If you're part of a school administration, you're welcome to join us in planning, brainstorming and implementing these changes. Or simply write to us at [email protected].